About the GBTC Summer Theatre Camps / March Break Theatre Camps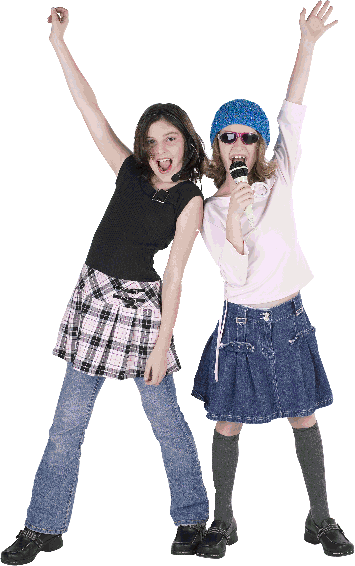 Camps near you ! GBTC offers weekly programs throughout July and August and also during March Break. The program includes plays, mime, improvisation, theatre games, musical theatre, work with simple sets and costumes, and an end-of-week public performance. Also included are outdoor activities, swimming (at selected locations), games and sports.
GBTC emphasizes basic skills, appropriate to each individual age level, in areas such as voice, movement, working with scripts, clear speech, expressing emotions, and developing character; we also work to encourage participation and develop confidence. We offer a low ratio (between 7:1 and 8:1) of campers to staff, so that each camper gets sufficient individualized attention. In addition, each age group prepares its own segment of the end-of-week performance, so that everyone participates equally, as much as possible.
The camp is a great way to meet new friends, learn new skills, and try out new tricks ! GBTC's theatre camps are designed to spark the interest of young people who want to act out interesting character roles, and more ! They'll act, sing, dance and participate in stagecraft and theatre games. There's something for everyone, and enough variety to keep campers interested, attentive and involved for the full day. Imaginations will soar to meet each new creative challenge.
The Friday end-of-week shows are exciting and intense, focusing all of the campers' acquired skills and dynamic energy to be shared with family and friends, in a fun setting that highlights each camper's talents and abilities. The confidence gained is something the kids retain long after the last day of camp. GBTC's enthusiastic, caring staff create a warm, supportive environment where campers will feel at home, and be ready to explore and discover. At the end of the day, each and every camper leaves with the joy of participation, and a sense of belonging and accomplishment.
The Goal of GBTC Summer & March Break Theatre Camps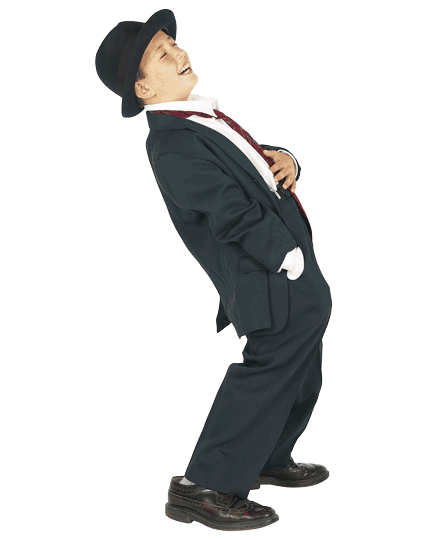 Great Big Theatre Company is a non-profit and registered charity; our focus is children's theatre. We offer camps, classes, mainstage and travelling productions, afterschool programs and in-school workshops. Our goal, is to provide a summer camp program that is rewarding, enriching and challenging; that is focused on encouraging participation, and that helps kids develop and try out new skills and capabilites. The program is aimed at growth in self-confidence and self-esteem. It teaches kids to work creatively, individually as well as in groups. At the same time, it provides a place and environment where kids can have fun. All kids can benefit from drama / acting experience, whether intending to eventually pursue a professional career in acting or simply for the joy of it. The benefits for kids include: increased self-confidence; imagination; empathy; enhanced capacities for cooperation / collaboration; better concentration and "focus"; better communication skills; problem-solving skills: emotional outlet; relaxation; self-discipline; trust; physical fitness; memory; social awareness; aesthetic appreciation; and of course, fun. This inventory of benefits comes from: The Drama Education Network
What Happens At Our Camps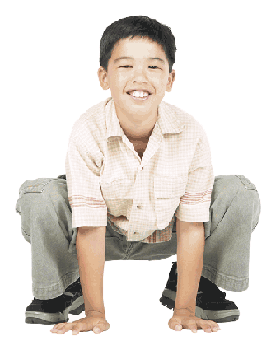 We have been offering our theatre camp programs since 1994; thousands of kids and families from across the GTA and southwest Ontario have participated, and many kids have gone on to shine, some of them on stages, on TV and in films, and many more in their schoolwork and in local community groups and activities, through the skills and confidence our programs have helped them to develop.
Each camp is one week in length; each week there is new content, including new plays and musical numbers, so that campers who register for more than one week of camp will have new and challenging experiences in each of the camp weeks. Many of our summer campers register for multiple weeks during the summer.
Campers will work together in groups, mostly within their own age groups but also at times across age levels. One goal is to work toward an end-of-week presentation, which is performed on Friday afternoons for an audience of parents, friends and relatives. The kids help with selecting costumes and creating sets. Costumes and props are kept simple and are provided at the camp. To encourage equal participation by all, each age group does its own part of the end-of-week show. Younger and older campers will work on their own separate plays. The final performance also involves more than the plays, including at least one musical number, with group vocals and simple choreography.
It's an exciting experience and one that develops in the kids a sense of teamwork and cooperation, as the week progresses and new elements of the final performance are created, polished and fit into place. Each group works with materials and content that are age-appropriate, challenging and stimulating for their own skill levels and learning styles.
The program is quite structured; campers get an introduction to many aspects of theatre. They will learn about voice, movement, working with scripts, developing characters, and using the whole body in their involvement with a role and a character. Kids will learn something about stage movement, blocking, voice projection and character development.
Besides the preparations for the performance, there is a lot more happening, including:
Games: most of them theatre-focused, often involving mime and / or improvisation, which develop in the kids skills in such areas as cooperation, movement and creative imagination.
Stagecraft: props, sets, backdrops and costume items are worked on by the kids themselves, individually and in groups.
Outdoor activities: non-competitive games and sports contribute toward getting creative energies flowing as well as developing social cohesion and cooperative skills.
Choral pieces, "raps", musical numbers, video, choreography, voice, role-playing, storytelling and forms of imaginative play are all part of the creative mix.
While the kids learn to work with scripted materials and stories, they also have opportunities to develop and contribute their own creative content.
We foster at all times an open, cooperative, supportive and non-competitive environment, in which every child has an opportunity to participate fully and equally.