Rudyard Kipling's The Jungle Book - March - April 2003
at the Playhouse Theatre, Hamilton ON
Mar. 28 - Apr. 4, 2003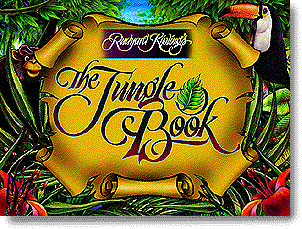 with Brandon Garbett* as Mowgli, Jason Gaidola as Bagheera / Rudyard Kipling, Paul Boresky as Shere Khan / Hanley, Jamie Blair as Tabaqui / Fielding, Charles Small as Baloo / Crofts, Jeffrey Ponsford as Akela / Chaplain Willies, Patricia Williams as Mother Wolf / Village Woman, Bradley Coffie* as Kaa / Wolf, Stefan Palios* as Hathi / Wolf / Monkey, Nicolette Burchell* as Rann / Wolf / Monkey, Laura Muraca* as Village Girl / Monkey, and Lindsay Pennett* and Kevin Campbell* as Wolf Cubs / Monkeys. Wolves / Monkeys: Kyle Villalobos*, Kaitlyn Pauly*, Cameo Coverdale*, Danielle Wood*, Kristen Perkin*, Kyle Pennett*, Amanda Lovely*, Rebecca Szorenyi*, Vanessa Muraca*, B. J. Carlos*, Jessica McNair*.
* denotes students or former students of the GBTC Theatre School
Adapted for the stage by Joseph Robinette.
Directed by Lily Small.
Photos
Production Archives